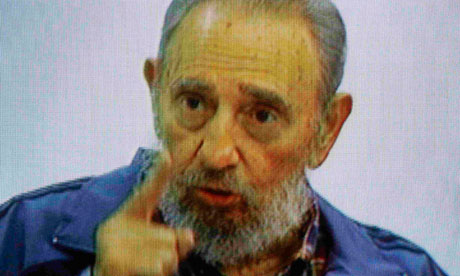 Fidel Castro is on the air in Cuban TV. He is No 1




Trending topic on twitter and he is warning that the US and Israel are going to attack Iran with some kind of nuclear weapons very soon.

ultimoscambios RT @cubadebate: Fidel Castro en la TV cubana: "coincido plenamente con el riesgo inminente de una guerra" #Cuba #EEUU #Israel #Irán



This is from USA Today

Fidel Castro 'relaxed, cogent' in rare TV interview

In his most prominent interview in years, 83-year-old Fidel Castro is "speaking slowly" but "appears relaxed and cogent," the Associated Press is reporting.

Castro, the communist revolutionary who ruled Cuba for nearly 50 years, has been out of the spotlight since he handed power to his brother Raul after undergoing emergency intestinal surgery in 2006. His appearance on the Round Table is being broadcast live on Cuban TV and radio.

Castro will bee talking about his theory that the world is on the verge of nuclear war, thanks to the conflict between the United States and Iran, Reuters says.

"The empire" — Castro's euphemism for the United States — "is at the point of committing a terrible error that nobody can stop. It advances inexorably toward a sinister fate," he wrote in his July 5 column for Granma, the Communist Party newspaper. Read it in English or Spanish.